Gallery190, sponsored by the UCSF Memory and Aging Center (MAC), is located in the Sandler Neurosciences Building on the Mission Bay Campus of the University of California, San Francisco (UCSF). The gallery is open weekdays 9 to 5 p.m. and weekends by appointment.
When the MAC moved to the UCSF Mission Bay Campus in 2012, we immediately imagined art hanging in the beautiful reception area of Suite 190. Our inaugural art show opened in late 2012 with an exhibition of the watercolors of William Yokoyama. Deborah Aschheim, Hellman Visiting Artist from 2009–2011, has four prints and the A.W. Clausen Memorial on permanent display within the gallery.
Gallery190 exhibits are typically on display for three to six months. Depending on the number of pieces to be displayed, there are additional walls within the suite that may be available for an exhibit.
For information and to view the gallery space please contact Diane Madsen, Assistant to Dr. Bruce L. Miller, at 415.476.5591 or [email protected]. Please click here to download a map of the gallery area.
Current Exhibit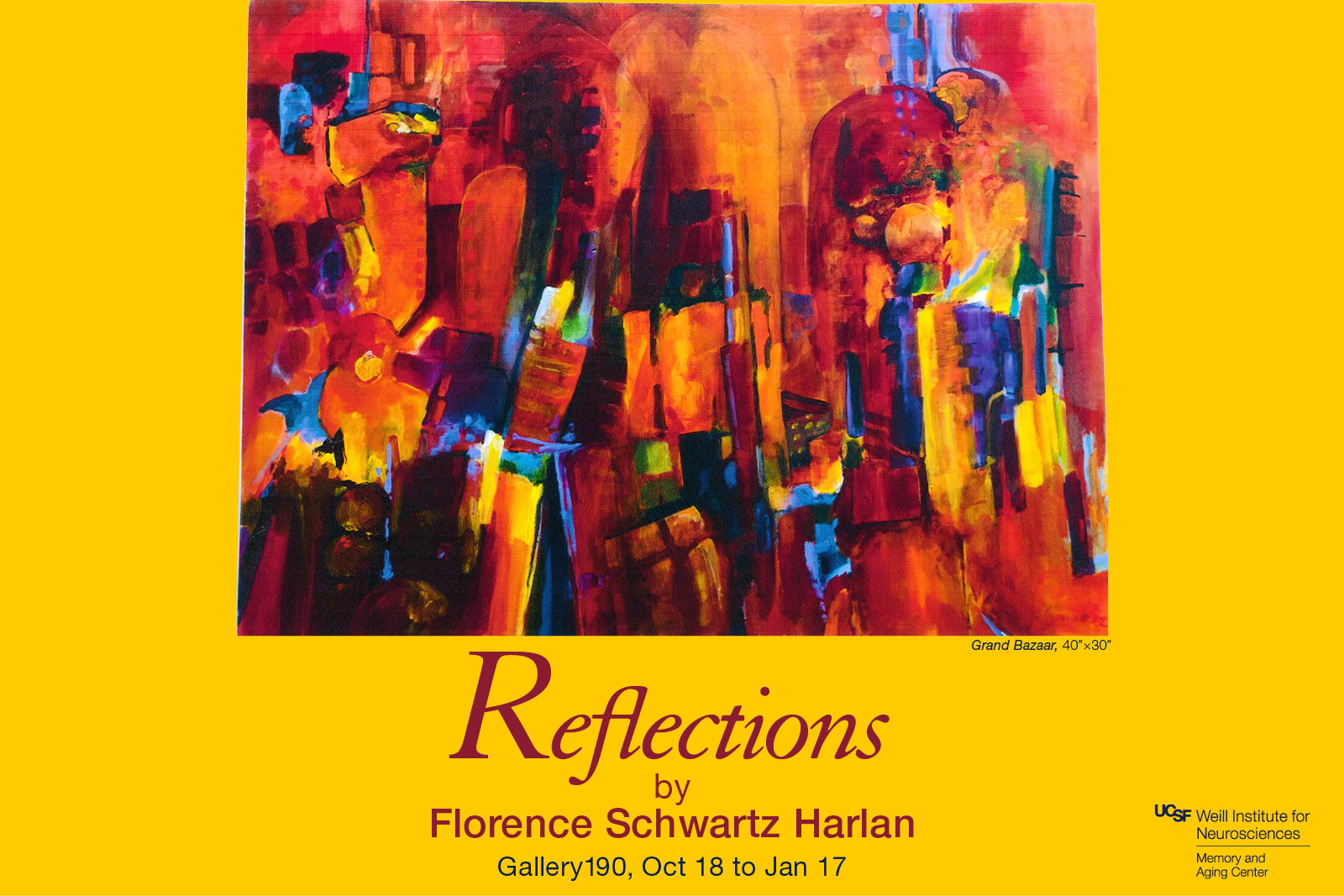 Reflections
This exhibit by Florence Schwartz Harlan will be on display from October 18 to January 17.
Florence Schwartz Harlan's paintings are inspired by memory enhanced by interpretation, impression and emotion. Most images are not visual recordings but capture a "sense of place" rather than specific details. After receiving a Bachelor of Fine Arts degree at the University of Illinois, she taught sixth grade and then completed a master's degree in education at Cornell University. Her background in both art and education served her well when she designed the Arts and Crafts Program for the Cornell University Student Union. Although her interest in higher education led to a 30-year career at San Francisco State University, painting has always been a major force in her life. She has studied privately and at Cornell University, City College of San Francisco, and San Francisco State University. In addition to solo shows on the Mendocino coast, in Mill Valley, Sacramento and San Francisco, she is represented in private collections in the United States, Europe, Asia and New Zealand. She has participated in group shows in San Francisco and in northern California where she has won several awards. One of her paintings was selected for a group exhibition at the M.H. de Young Museum in Golden Gate Park, San Francisco.
Gallery190 is open weekdays 9 to 5 p.m. and weekends by appointment.
Previous Artists Displayed in Gallery190