Gallery190, sponsored by the UCSF Memory and Aging Center (MAC), is located in the Sandler Neurosciences Building on the Mission Bay Campus of the University of California, San Francisco (UCSF). The gallery is normally open weekdays 9 to 5 p.m. and weekends by appointment, but it is currently closed due to the COVID-19 pandemic.
When the MAC moved to the UCSF Mission Bay Campus in 2012, we immediately imagined art hanging in the beautiful reception area of Suite 190. Our inaugural art show opened in late 2012 with an exhibition of the watercolors of William Yokoyama. Deborah Aschheim, Hellman Visiting Artist from 2009–2011, has four prints and the A.W. Clausen Memorial on permanent display within the gallery.
Gallery190 exhibits are typically on display for three to six months. Depending on the number of pieces to be displayed, there are additional walls within the suite that may be available for an exhibit.
For information and to view the gallery space please contact Diane Madsen, Assistant to Dr. Bruce L. Miller, at 415.476.5591 or [email protected]. Please click here to download a map of the gallery area.
Current Exhibit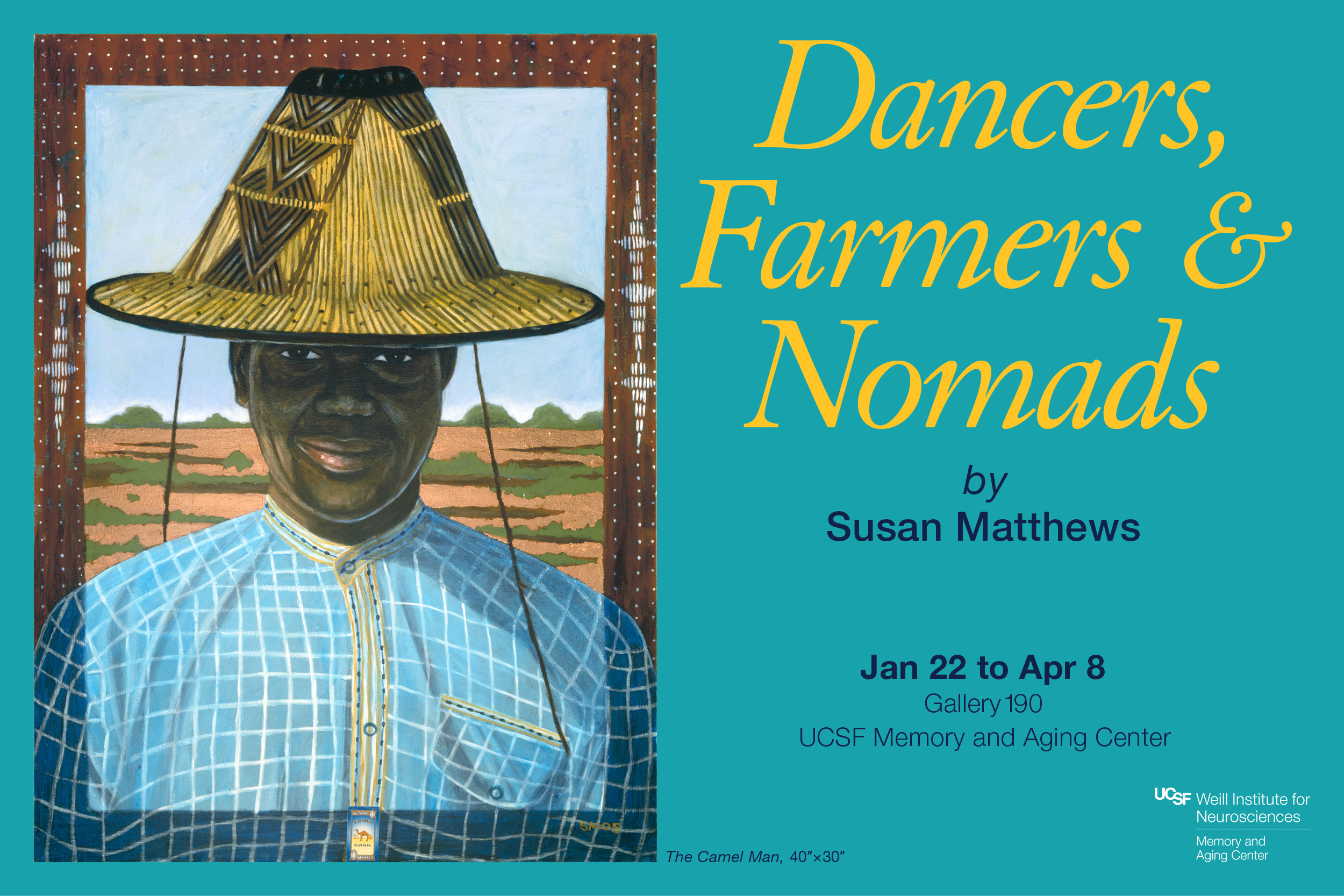 Dancers, Farmers, and Nomads
After a trip to Niger, West Africa, Oakland artist Susan Matthews created the paintings currently on display at Gallery190. These larger-than-life gilded portraits depict Hausa farmers and Wodaabi nomads, based on photos of some of the desert people Matthews met in villages, markets and nomadic camps. A percentage of the proceeds from this series goes back to a hospital or a grain bank that serves the people Matthews painted. Over the past several decades Matthews' work has also focused on her experiences studying the music and folklore in Cuba. Since 2006 Matthews has been a member of a project called Secrets Under the Skin, an artists' collaborative investigation of the cultural connections between Cuba and the Volta Region of Ghana/Togo, West Africa. The paintings of dancers and drummers included in this show grew out of Matthews' study of percussion and dance in Cuba and were created for a women's drum camp called Born to Drum, which is held in the Oakland hills every summer.
Gallery190 is open weekdays 9 to 5 p.m. and weekends by appointment. The gallery is currently closed due to the COVID-19 pandemic.
Previous Artists Displayed in Gallery190