Gallery190, sponsored by the UCSF Memory and Aging Center (MAC), is located in the Sandler Neurosciences Building on the Mission Bay Campus of the University of California, San Francisco (UCSF). The gallery is open weekdays 9 to 5 p.m. and weekends by appointment.
When the MAC moved to the UCSF Mission Bay Campus in 2012, we immediately imagined art hanging in the beautiful reception area of Suite 190. Our inaugural art show opened in late 2012 with an exhibition of the watercolors of William Yokoyama. Deborah Aschheim, Hellman Visiting Artist from 2009–2011, has four prints and the A.W. Clausen Memorial on permanent display within the gallery.
Gallery190 exhibits are typically on display for three to six months. Depending on the number of pieces to be displayed, there are additional walls within the suite that may be available for an exhibit.
For information and to view the gallery space please contact Diane Madsen, Assistant to Dr. Bruce L. Miller, at 415.476.5591 or [email protected]. Please click here to download a map of the gallery area.
Current Exhibit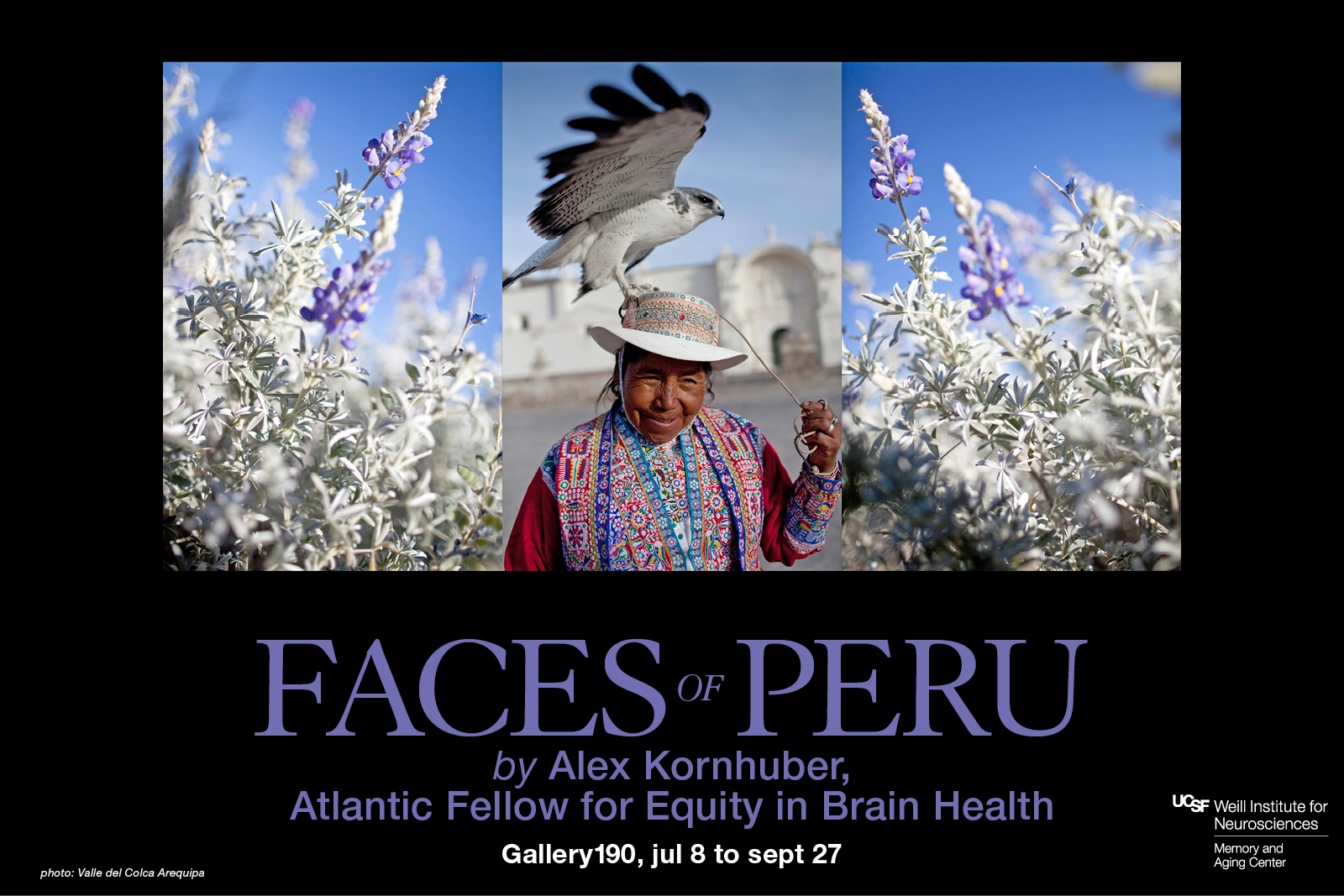 Faces of Peru
This exhibit by Alex Kornhuber, Atlantic Fellow for Equity in Brain Health at GBHI will be on display from July 8 to September 27.
"Peru's contrasting people, its rich cultures, landscapes and beauty, have long captivated my attention and imagination. In 2004, I began creating a lyrical visual document that shows intimate, honest portraits of Peruvians and their relation to their environment. As a Peruvian myself, I contemplate my work as a means of breaking barriers amongst my compatriots, as a way of seeing each other face to face. Through this work, the camera becomes my excuse to approach my fellow Peruvians and to empathize with them. My experience as an Atlantic Fellow has placed even greater emphasis on the role of different social determinants of health in influencing the aging trajectories of older Peruvians."
"Faces of Peru" is a photo-essay that reflects an honest approximation to the incredible beauty and diversity of Peru.
The opening reception is on Thursday, August 1, 2019 from 5 to 7 p.m.
Gallery190 is open weekdays 9 to 5 p.m. and weekends by appointment.
Previous Artists Displayed in Gallery190