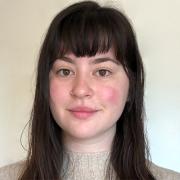 Alexis Oddi
Asst. Clinical Research Coord.
Alexis is a graduate of the University of California, Berkeley, where she received her Bachelor's degree in Data Science and a concentration in Urban Science. As an Undergraduate Research Assistant, Alexis studied the impact of the technology industry on housing in the Bay Area. Her specialities include data mapping and data visualization, and she is deeply interested in the intersections of neurology, data science, and social justice.
Alexis joined the UCSF Department of Neurology in January 2021, working jointly under the Yokoyama Lab and Dr. Joanna Hellmuth as an Assistant Clinical Research Coordinator. Alexis is currently a research coordinator for the Coronavirus Neurocognitive Study (CNS), which aims to characterize the long-term neuropsychological and neurocognitive effects of COVID-19.