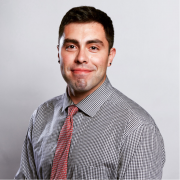 Cesar Hernandez
Cesar holds bachelor's degrees in psychology and ecology from the University of California, Davis and a Master of Public Health in epidemiology from Boston University. Prior to joining the UCSF Memory and Aging Center, Cesar worked in the Women's Health Clinical Research Center (WHCRC) at UCSF managing data for the San Francisco Mammography Registry (SFMR) database and various clinical trial studies. His main focus was combining and linking complex datasets, ensuring data integrity, improving data quality and facilitating strong communication between all aspects of research from data collection to analysis.
At the Memory and Aging Center, he works primarily with Dr. Kate Rankin as the Data Liaison where he is responsible for integrating systems and addressing any data needs across the MAC.
In his spare time, he loves to travel, explore new restaurants, watch movies, hike and play volleyball.