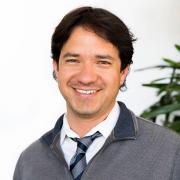 Julio Rojas, MD, PhD
Julio Rojas is a neurologist who specializes in dementia, caring for patients with cognitive difficulties or behavioral changes resulting from conditions including Alzheimer's disease, Lewy body dementia (a form of dementia that causes cognitive defects and Parkinson's-like symptoms), frontotemporal dementia (a common cause of dementia in younger adults that features behavioral changes) and progressive supranuclear palsy (a condition affecting movement and behavior in older adults). With particular expertise in managing difficult behaviors in dementia, he creates care plans to equip patients and their families with the necessary tools for achieving their best possible quality of life. In his research, Rojas looks for blood tests that could be used to diagnose dementia. He also works on developing novel treatments to prevent or slow neurological degeneration and cognitive impairment.
Rojas earned his medical degree at the Tecnológico de Monterrey in Mexico. He earned a doctorate in neuroscience from the University of Texas at Austin and completed a residency in neurology at the University of Texas Southwestern Medical Center and a fellowship in behavioral neurology at UCSF. A native of Mexico City, Rojas conducts patient evaluations in English and Spanish. He strives to improve access to dementia care for Hispanic communities in the United States. For the UCSF Memory and Aging Center, he co-chairs a task force that works to improve the management of behavioral symptoms for the center's patients with dementia. He also participates in UCSF committees on ethics and on diversity and inclusion.