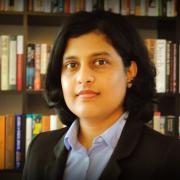 Kamalini Ranasinghe, MBBS, PhD
Dr. Kamalini Ranasinghe received her medical degree from the University of Peradeniya, Sri Lanka and completed her internship training in general medicine and general surgery. She earned her doctorate degree in Cognition and Neuroscience from the University of Texas at Dallas, under the mentorship of Dr. Michael Kilgard.
Dr. Ranasinghe is an assistant professor at the Memory and Aging Center. Her research centers on the network dysfunction of neurodegenerative diseases including Alzheimer's disease and frontotemporal lobar degeneration. Much of her work has been devoted to identifying the spatial and temporal characteristics network dysfunction using MEG-imaging of the brain.