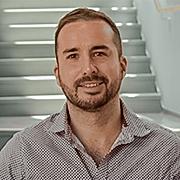 Tobias Haeusermann
Dr. Tobias Haeusermann is a sociologist in the UCSF Decision Lab with Dr. Winston Chiong, where his research aims to understand the ethical concerns in existing clinical applications of closed-loop neuromodulation in epilepsy, movement disorders and mood disorders. He is also part of the Institute for Health Policy Studies and its newly established Medical Cultures Lab, a collaborative of social scientists working on methods innovations and the culture of medicine.
He received his PhD and Master of Philosophy degrees in sociology from the University of Cambridge. During his doctoral studies he held a research fellowship at the Amsterdam Institute for Social Science Research and was a member of its Long-term Care and Dementia group. He then conducted postdoctoral research at the Epidemiology, Biostatistics and Prevention Institute of the University of Zurich and for the Department of Health Sciences and Technology at ETH Zurich. Thereafter, he taught as a student supervisor at the University of Cambridge for the HSPS Tripos "Introduction to Sociology: Modern Societies I" and the paper "Social Context of Health and Illness" within the Medical and Veterinary Sciences Tripos, and he was a visiting fellow at the Ethox Centre, University of Oxford.
Dr. Haeusermann is particularly interested in how medical knowledge and care practices are interpreted differently in distinct cultural settings. Beyond these specific research domains, he is also interested in aging studies, the sociology of health and illness, comparative ethnographic research, and qualitative research methodologies.