Gallery190, sponsored by the UCSF Memory and Aging Center (MAC), is located in the Sandler Neurosciences Building on the Mission Bay Campus of the University of California, San Francisco (UCSF). The gallery is open weekdays 9 to 5 p.m. and weekends by appointment.
When the MAC moved to the UCSF Mission Bay Campus in 2012, we immediately imagined art hanging in the beautiful reception area of Suite 190. Our inaugural art show opened in late 2012 with an exhibition of the watercolors of William Yokoyama. Deborah Aschheim, Hellman Visiting Artist from 2009–2011, has four prints and the A.W. Clausen Memorial on permanent display within the gallery.
Gallery190 exhibits are typically on display for three to six months. Depending on the number of pieces to be displayed, there are additional walls within the suite that may be available for an exhibit.
For information and to view the gallery space please contact Leslie M. Goss, Assistant to Bruce Miller, MD, at 415.476.5591 or [email protected]. Please click here to download a map of the gallery area.
Current Exhibit
The Pathways to Recovery: Artwork Created by Schurig Center for Brain Injury Recovery Artists exhibit runs February 8, 2018, to April 25, 2018.
The opening reception is Thursday, March 15, 5 to 7 p.m. in Gallery190.
The art process assists in the creation of new neural pathways in the brain, often referred to as neuroplasticity. Creating art holds power in its integrative, reparative, healing properties for the soul, the body and the brain.
The Schurig Center for Brain Injury Recovery is a Bay Area non-profit offering an array of affordable rehabilitative and supportive services designed to help survivors and their families rebuild their lives and abilities after brain injury from a stroke, concussion, accident or other cause.
The exhibit runs Feb. 8, 2018, through Apr. 25, 2018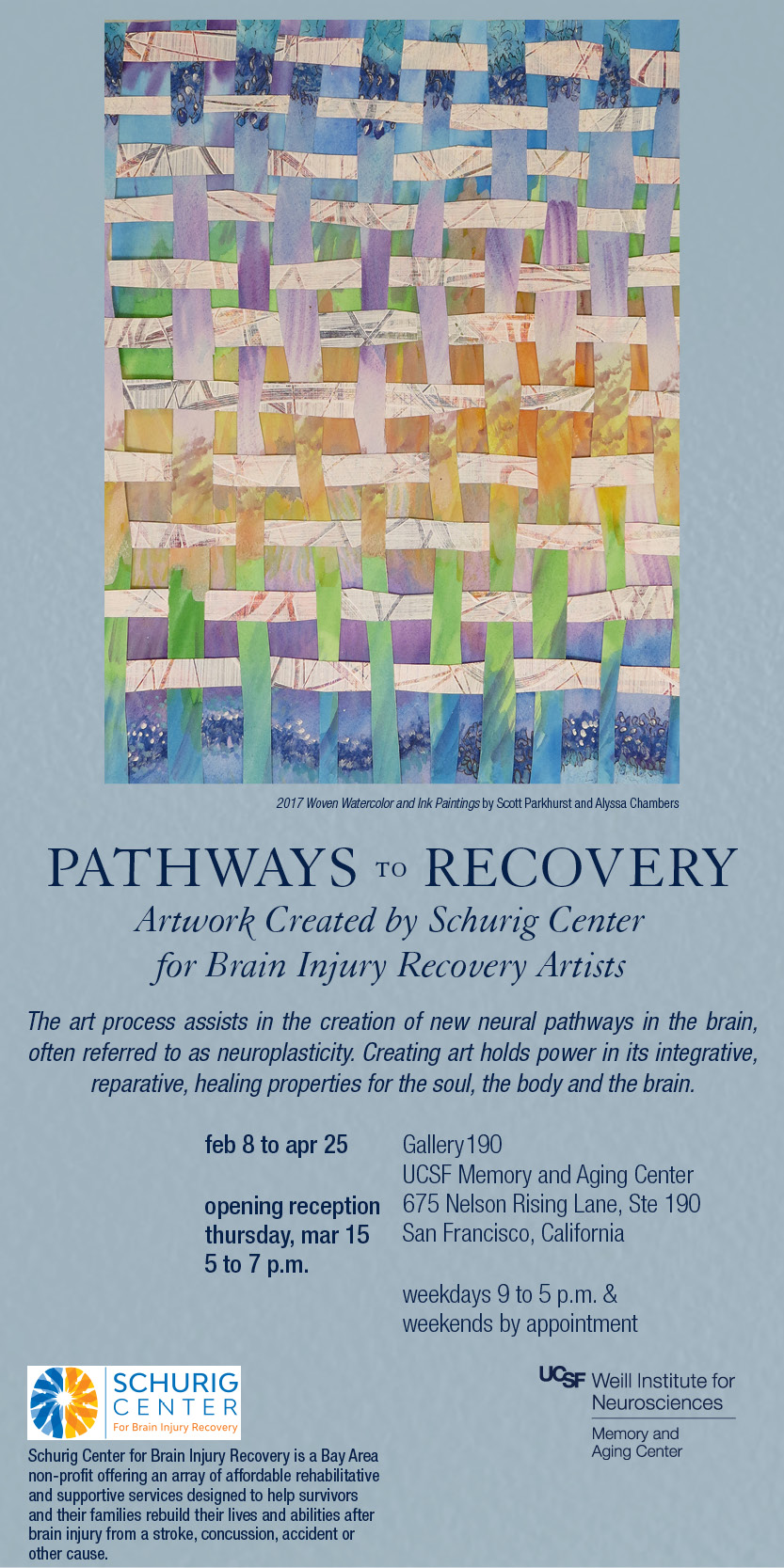 Previous Artists Displayed in Gallery190