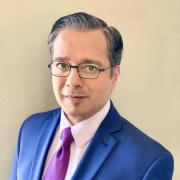 Anil Vora
Anil Vora joined the Memory and Aging Center in December 2022 as the Executive Analyst. He is responsible for managing Dr. Bruce Miller's schedule, travel, research collaborations and other advanced administrative objectives related to the executive office. He also partners with the center's six leadership committees acting as a primary resource for committee operations and strategic priorities.
 
Mr. Vora brings more than 20 years of experience in the public health sector, in project management and grants management roles, at Federally Qualified Health Centers, Kaiser Permanente Washington Health Research Institute, and the Bill & Melinda Gates Foundation. He has a sharp understanding of organizational structure, objectives and operations, including processes and data flow between teams and the financial implications of these factors. His expertise and interest lie in fiscal stewardship and continuous business process improvement.
Prior to joining the MAC, Mr. Vora served as a Research Administrator at the UCSF Institute for Global Health Sciences. Born and raised in Mumbai, India, Mr. Vora has a Bachelor of Science in Mathematics from the University of Mumbai.