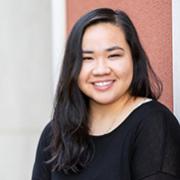 Nhat Bui, NP
Adult-Gerontology Nurse Practitioner
Nhật Bùi earned her master's degree in nursing here at UCSF in 2016. She is certified as an Adult-Gerontology Nurse Practitioner by the American Association of Nurse Practitioners (AANP). Nhật assists with the Alzheimer's Dementia Research Center and clinical trial projects by conducting patient assessments and caregiver interviews for observational research studies and clinical drug trials. She also provides follow-up care and support for patients and caregivers with neurodegenerative diseases in the MAC Clinic and initiates quality improvement projects to improve operations and efficiency. She is a member of the Behavior Management Task Force to improve management and understanding of behavioral symptoms in dementia patients, and she co-leads two projects aimed at understanding divergent sexual behaviors in dementia and provider prescribing practices for behaviors at the MAC clinic.
Before joining the Memory and Aging Center, Nhật worked as a primary care provider at Asian Health Services in the Internal Medicine Department at the Rolland & Kathryn Lowe in their Geriatric Center of Excellence. She provided urgent and primary care to the adult and geriatric patient population. She manages chronic conditions such as hypertension, diabetes and hepatitis with special focuses on patients with neurocognitive and psychiatric disorders. She was a Fellow in the UC Davis Train the New Trainers Primary Care Psychiatry interprofessional training program.
Her research interests are in improving access to palliative care in the community like outpatient primary care clinics and long-term care settings. She also works on novel approaches to improving dementia care for both patients and caregivers with a particular focus on caregiver education and guidance around managing behavior symptoms.