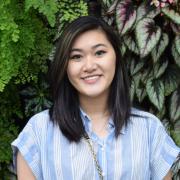 Celeste Fong
Clinical Research Coordinator
Originally from Huntsville, Alabama, Celeste earned her undergraduate degree in Neuroscience at the University of Alabama at Birmingham. While there, she took several philosophy courses, inspiring her interest in bioethics. Afterwards, Celeste enrolled in the Masters of Bioethics program at Emory University in Atlanta, Georgia. Her thesis research consisted of examining ethical perspectives of identity in patients who had undergone deep brain stimulation for treatment resistant depression.
Celeste's interest in neuroethics and neurotechnology led her San Francisco, where she now works as an Assistant Clinical Research Coordinator in the UCSF Decision Lab with Dr. Winston Chiong. Her work includes coordinating research on the ethical concerns and implications of closed-loop deep brain stimulation using the perspectives of patients, caregivers, and physicians.
In her free time, Celeste enjoys keeping up to date with the newest films and shows, and trying to find the best bites in San Francisco.