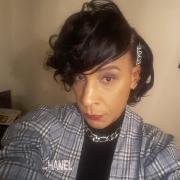 Laura Wise
Laura Wise was born and raised in San Francisco. She has a bachelor of science degree in health education from San Francisco State University. Laura always had a passion for promoting health education in underserved communities and serving as an advocate for access to better healthcare and medical treatment resources for people of color. She also has a passion for supporting troubled youth in navigating mental and physical health challenges. Laura has implemented her knowledge in health education to help troubled youth focus educate and advocate for themselves in regard to self-care and personal health decision making.
Laura began her career at the University of California, San Francisco in 2007 and joined the Memory and Aging Center in 2020. In her current role, Laura uses her extensive administrative experience to support the Memory and Aging Center's mission of providing the highest quality of care for individuals with cognitive problems, conducting research on causes and cures for degenerative brain diseases, and educating health professionals, patients and their families. Laura serves as a member of the Memory and Aging Center's Black Leadership Advisory Council (BLAC). As a native of San Francisco, Laura brings historical knowledge of the changing city landscape and its impact on communities of color. She hopes to bring awareness of the healthcare challenges that impact communities of color in the San Francisco Bay Area and beyond and promote positive change.
In Laura's spare time, she enjoys spending time with her family, partaking in family outings and activities.