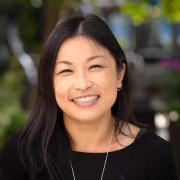 Jennifer Yokoyama, PhD
Jennifer Yokoyama obtained her doctorate degree in Pharmaceutical Sciences and Pharmacogenomics from UCSF in December 2010 with Dr. Steven Hamilton (Department of Psychiatry and Institute for Human Genetics). Her dissertation comprised work within the Canine Behavioral Genetics Project, utilizing purebred dogs as genetic models for studying neuropsychiatric disease. Utilizing community-based canine DNA samples, Dr. Yokoyama performed genome-wide surveys for genetic loci underlying the canine anxiety disorder noise phobia, as well as for loci underlying adult-onset deafness in border collies.
Dr. Yokoyama is currently an Associate Professor at the Memory and Aging Center, where she is beginning a research program in neurogenetics of aging. Specifically, she is interested in the effect genotype can have on brain physiology, behavior and cognition in healthy older adults, and how this is related to increased vulnerability to (or protection from) neurodegenerative processes during aging. She is also particularly interested in understanding these effects in diverse ethnic populations. Dr. Yokoyama's long-term goal is to understand how variation across the entire genome confers risk for particular types of neurodegeneration for purposes of early treatment and therapeutic intervention.
In 2020, Dr. Yokoyama received the Alzheimer's Association Excellence in Neuroscience Mentoring Award in recognition of her mentorship, advocacy, sponsorship and guidance of trainees in her laboratory. And in 2021, she received the Mary Oakley Foundation Professorship in Neurodegeneration.