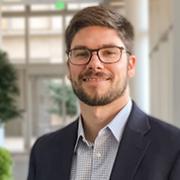 Adam Staffaroni, PhD
Dr. Staffaroni is a neuropsychologist in the UCSF Department of Neurology, Memory and Aging Center. He provides clinical neuropsychological assessments, and his research focuses on predicting disease progression and improving endpoints for clinical trials in neurodegenerative diseases. He obtained a PhD in Clinical Psychology at Palo Alto University, with an emphasis in neuropsychology. He completed a clinical internship at the West Los Angeles VA Health Care System and a two-year postdoctoral fellowship in neuropsychology at the UCSF Memory and Aging Center.
His research program aims to prepare for clinical trials in neurodegenerative diseases by: 1) developing and validating trial endpoints, 2) leveraging multimodal neuroimaging and fluid biomarkers to predict patients' clinical course and inform patient stratification, and 3) evaluating novel approaches for selecting clinical trial endpoints. He is leading two studies of remote data collection in frontotemporal dementia. He is also interested in healthy aging and studies the aging brain through a combination of functional connectivity, structural imaging, and perfusion imaging.